Trestle Thirty One 2017 Chardonnay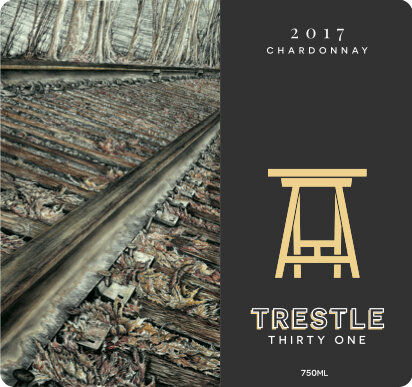 Trestle Thirty One 2017 Chardonnay
Varietal Composition:
100% Chardonnay
Wine Analysis:
Alcohol: 13%
Ingredients:
Chardonnay grapes from Nutt Road Vineyard, Sulfites
Produced Using:
Settling enzyme, VIN13 yeast, Yeast Nutrients, and Bentonite.
Vintage:
After a wet winter and a Nor'easter named Stella, Spring arrived quickly resulting in an early bud-break. After a single frost event in early May, the vines emerged, luckily with minimal damage and continued growing towards a mild summer. Unlike 2016, which was very dry with minimal precipitation during the growing season, 2017 was exceptionally wet and had very few days above 90°F. During harvest, the cool season gave us bright acidity and delicate flavors perfect for this fresh style of Chardonnay.
Winemaking:
The fruit was hand harvested and gently destemmed. After pressing, the juice was cold settled for 48 hours before being racked to a combination of a single French oak barrel and two stainless steel barrels for fermentation. The juice was inoculated with VIN13 yeast and went through a swift but healthy fermentation followed by full Malolactic fermentation. The wine aged sur lie for 11 months being stirred biweekly by rolling the barrels with a special rack meant to agitate the lees without introducing oxygen. After racking it was gently fined with a small amount of bentonite prior to bottling. It bottled in July of 2018 and was aged in bottle for 12 months prior to release in July 2019.